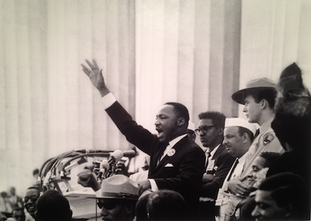 Fort Lauderdale museum showcases Civil Rights images that moved a nation

BY GEORGE FISHMAN




Audio: Listen to Bob Adelman describe the circumstances of capturing this iconic image.

When Bonnie Clearwater took the helm of Fort Lauderdale's NSU Museum of Art in September 2013, a civil-rights-themed exhibition was part of the programming she inherited — and she resolved to give it great prominence. "I felt this was one of the most important exhibitions we could do."

She selected photographer Bob Adelman's work as the focus and "turned it into the national event it should be. The timing of the opening with Dr. King's birthday and the commemoration of the 50th anniversary of the Civil Rights Act added to the national significance of this exhibition."

The result is The Movement: Bob Adelman and Civil Rights Era Photography, a display of roughly 160 photographs representing the signal work of Adelman, 83. Now an active and outspoken Miami Beach resident, Adelman in the early 1960s was a young New York photographer with an academic background in law and philosophy; Harper Bazaar's demanding editor, Alexey Brodovitch, was a mentor. Although he was brought up in neighborhoods where African Americans were scarce (not only the South was segregated), Adelman felt morally compelled to document the nascent civil-rights movement's efforts to break segregation, which he calls "institutionalized terrorism."

Says Clearwater, "He knew what he was doing during the civil-rights movement put him in a very dangerous place – right in the very center of the marches and protest. But actually, he was a student of philosophy, and he asked himself two questions: 'What is the worst that can happen? I could be killed.' So, the second question was, 'Is this worth dying for?' The answer was yes."

Adelman slung cameras around his neck and hit the road to document both the quiet and dramatic activities that constituted the movement. "It may have been wishful thinking, but I knew this was history," he says.

He started working for the Congress of Racial Equality, calling himself "a Movement man." His loyalties were clear, and he wanted his images to inspire outrage and engage support for equal rights.

Adelman documented training sessions for voter registration and nonviolent resistance. He photographed vigils outside segregated stores and restaurant sit-ins by citizens demanding the right to be served. One photo shows the police-confiscated protest sign: "Khrushchev can eat here. Why can't I?"

He walked the center aisle of a Freedom Ride bus, capturing a mixed-race couple holding hands as they rolled toward possible confrontation. And Adelman photographed the dramatic Children's March in Birmingham, Ala., where public safety officer Eugene "Bull" Connor ordered policemen to clear the streets of protesters and their supporters with cannon-like blasts from firehoses. The enlarged contact sheet reveals the action sequence, as described by Adelman: "If the hose hit one person, they would skid along the grass there, but if they held onto one another and created the beloved community, really … they could not be knocked down."

Adelman jostled for position on the steps of the Lincoln Memorial in Washington to capture iconic images of Martin Luther King Jr. delivering his I Have a Dream speech. Before the exhibition's opening, Adelman explained, "What you see upstairs is people from all walks of life, who in their own different ways challenge this system of terror, and people like Dr. King, by standing up, gave lots of little people the courage to do that."

Adelman had no official press credentials, which would have relegated him to the press box 50 feet away from the podium. Instead, "I knew everybody, so people let me in and I got up the steps near the podium. I was maybe five or 10 feet from where 'Doc' [as Adelman referred to Dr. King] was speaking." This gave him the ideal position to capture dramatic images.

Museum guest curator Peter Boswell had a different goal for the exhibition than did the photographer. Adelman wanted a spare show to emphasize the aesthetics of his photography, featuring iconic images. Boswell was interested in "immersing people in the history."

To combine approaches, says Boswell, Adelman "would give me scans and tell me all the stories behind [them]. Then I would go back home and do my research. So, the first seven months or so was really going through his materials and talking them over."

That research informs extensive wall texts that place the events and people portrayed into context. A diverse set of documentary videos (such as one showing nonviolent-resistance training sessions) provides additional voices and perspectives.

For Boswell, the immediacy of the material and the incremental sequences of activity were extremely compelling. Enlarged contact sheets deliver the action, frame-by-frame.

Fundamentally, the power of these images was, according to Adelman, "a way that we peeled back the nature of the terror that was used to suppress our brothers and sisters." He believed segregation was "an organized system of terror. If you were black and tried to vote or go to a water fountain or go to the bathroom or go to a store and try some clothes on, you might be beaten up, arrested, lynched. Anything is possible, because you broke this system of terror."

In fact, the timely newspaper and magazine publication of his work generated the outrage that gave Congress and presidents Kennedy and Johnson the moral cover to generate legislation that led to voting rights for blacks plus desegregation of schools, stores, housing and transportation.

Nearly all the photographs are black-and-white, but one series, from the 1965 Selma-to-Montgomery march that led to passage of the Voting Rights Act that summer, was commissioned by Newsweek for its cover, so Adelman shot in color. That suite features close-ups of many protest leaders — among them King, Coretta Scott King, Ralph Bunche and John Lewis. The bright orange of Mrs. King's skirt and jacket presented a shock to some viewers during the exhibition opening. One asked, "Were they colorized?" [They were not.] But more frequent were whispers of "How brave they were!"

Bravery was not limited to movement leaders. In one stark image, the Rev. Joe Carter stands vigil before his spare rural Louisiana house. The first black person to register to vote in his parish since the 1920s, he knew from overt Ku Klux Klan threats that he could be a nighttime target. Silhouetted against the porch light, but framed by rich, velvety black shadow, he holds a rifle in relaxed readiness.

Boswell: "And this was a guy who felt that if he couldn't vote he wasn't a complete citizen … and so he went ahead and did it, even though he knew the threat." Adelman interviewed Carter extensively and felt he understood his passion. "Not being able to vote meant, in some ways, that you were still a slave." This emotional resonance prevails throughout the exhibition, encompassing even anonymous shots such as a man's hand reaching into a box of buttons that read, "I am registered. Are you?"

For Adelman, the exhibition represents more than a powerful review of history-making events. When he attended last year's 50th anniversary of the March on Washington, veterans asked one another, "Where are the young people?" So, considering the Occupy movement, he said, "If you want to deal with income inequality, it's not good enough to just demonstrate. You have to have leaders and organization and goals."

That's another moral lesson built into The Movement. If the work serves as a "toolkit" for current and future activists, Adelman will be gratified. "I hope it gives a lot of young people mischievous ideas."

Listen to Bob Adelman describe the circumstances of capturing this iconic image.