Art in the public domain is moving away from the traditional format of a bronze equestrian monument, anchored to a pedestal. Today's models may be fluid and temporary – possibly including elements of performance. Fringe Projects, curated by Amanda Sanfilippo, is designed as a thought-provoking "activation" for downtown Miami and embodies evolving attitudes about the interaction of site, form, topicality permanence and audience.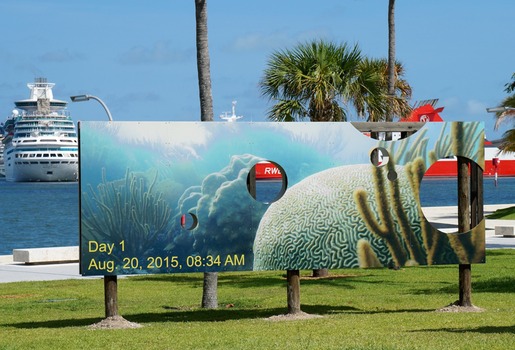 These videos showcase three projects from the sixth  iteration of Fringe. Hurricane Irene' unwelcome visit delayed, but didn't derail the artists' diverse interventions in the urban environment.
"FLOWER POWER" by R&R STUDIOS for Fringe Projects from George Fishman on Vimeo .
Fringe Projects, Miami 2017 commissioned R&R Studios to create a temporary installation for downtown. Principal designers Rosario Marquardt and Roberto Behar elected to create an enormous flag, exploring and projecting the layers of meaning embodied by "Flower Power."


"REVERSAL of FORTUNE" by HEW LOCKE for Fringe Projects from George Fishman on Vimeo
Fringe Projects 2017 commissioned a temporary installation by artist Hew Locke in the Dupont building in downtown Miami. Consistent with prior explorations and critique of global finance, Locke has collected, over-painted, enlarged and installed colonial-era stock certificates within and outside this historical bank building.

Fringe Projects director, Amanda Sanfilippo describes the initiative's origins, goals, and challenges. Coordination with the Downtown Development Agency (DDA), building managers, and other agencies is vital.
AMANDA SANFILIPPO ON FRINGE PROJECTS from George Fishman on Vimeo .
Fringe Projects 2017 has commissioned temporary art installations by R&R Studios, American Fantasy Classics, and Hew Locke for viewing in downtown Miami. Consistent with prior years, these provocative works animate the urban core, playfully explore socio-economic issues and resonate with their specific settings. Fringe director Amanda Sanfilippo offers her perspective on the enterprise, its history and aspirations.
MISAEL SOTO – Flood Relief from George Fishman on Vimeo .
SEA LEVEL RISE, commissioned by Miami-Dade Art in Public Places and the John & James L. Knight Foundation, provides opportunities for selected artists to create temporary, site-specific artworks that explore this climate change crisis during 2017-2018. Misael Soto's project "Flood Relief," was presented in a series of theatrical events in Museum Park, adjacent to the Pérez Art Museum Miami. The evening performance on Nov. 11 included readings by Cherry Pickman and Nathaniel Sandler, piano by Oscar Bustillo, and a dance performance by Jenna Balfe – as well as an absurdist activation of three industrial water pumps, cycling water from and back into the bay.